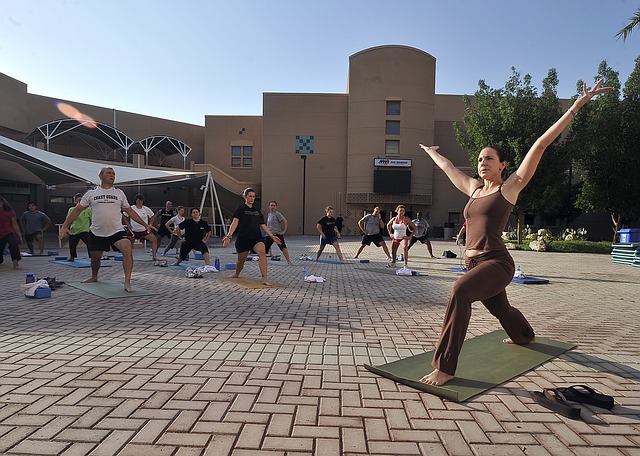 There are many reasons to employ and replace gym mats. We look more presentable and confident when we have a good personality. We all want to have a shaped body with the right weight, but these days our flexible working hours and unbalanced diet have spoiled our body. To get in shape we must have to practice some fitness exercises. For faster results and better guidance, you can join a gym. The trainers will guide you with the perfectly required exercises for you and also they will help you in your exercises.
The Reasons to Have Them Placed
The best part is your practice would be safe and comfortable as the Gym Mats are used in gyms to make your practice safe and very comfortable. Standing, sitting or lying ion these mats for a long time is very comfortable as these are not like a hard floor which irritate with discomfort. The installation, de-installation, maintenance, and repair are very easy and cost-effective for these Gym Mats.
These mats are made with the high-quality natural rubber and Eva foam is filled inside to add cushioned surface to your mat. These mats are so durable and very strong so you can easily install the heavy machines and tools of your gym. You can buy these mats from your nearby trusted mats suppliers. The smooth and shiny look of these mats will also create an attractive ambience in your gym. These mats can be used for aerobics or other fitness activities.
The Indicators to Have Them Replaced
So how could you tell that it is time to replace your old gym mats? Here are a few tips that we think you should follow.
Showing Visible Signs of Wear and Tear.
The easiest way to tell if you need to upgrade your gym mats is to simply take a look at them, closely or even from afar. If your gym padding looks worn out or damaged, then it probably is, and it needs to be replaced soon. It is also important to remember that padding is not only there for safety and protection. But it also adds to the aesthetics of your gym. If it looks worn out, your entire gym will seem worn-out too.
Not Meeting the Standard.
If your gym does not meet the standard for impact resistance and fire hazard, then it is time to replace your gym mats. To meet the standard, the padding needs to contain high-quality foam. That means it is thick enough to provide protection for the athletes that may collide with the padding. In addition, it is also important for gyms to have padding that would slow down the spread of fire in case there's a fire in your gym.
Not Environmentally Friendly.
You could start making a more environmentally friendly gym setting by replacing your old gym padding. Replace with new padding that is made from eco-friendly materials. By doing this you could make your gym a place that is healthy for the body and the environment.
Inspect the gym mats in your gym. If it shows any signs that we mentioned above, then it might be time to upgrade your gym mats. You should know about the thickness aspect when it comes to gym mats. For example, MMA mats tend to range from 1 to 2 inches in thickness, however, thicker isn't always better. The appropriate thickness of your mat would be dependent on the discipline/s you teach in the gym.
Do not hesitate to contact our team at Ezy Mats to get the best gym mats and gym mats for your facilities. So if you are looking for reasons to employ and replace gym mats, call today or get in touch online.