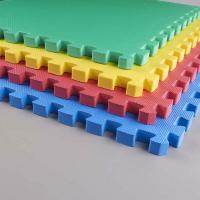 There are many advantages of premium jigsaw mats. There are also many advantages of learning martial arts for all people of any ages. Martial arts is essential for self-defence. It also helps young people and people of all ages lead a healthy and balanced life. That is why martial arts are still so popular today.
Training Like a Pro
These days, you can train like professional martial artist with ease. All you need is quality martial arts mats which are commonly employed in skilled MMA studios across the country. The best size of jigsaw actually suits for any particular martial art school depends on their requirements. It depends on whether it is for a school or competitions. For a school it is up to the instructors tastes. For a competition there are usually guidelines.
Selecting Mats For You
You are advised to select the best Jigsaw Mat to become comfortable in your choice of sports. The martial art mats are particularly designed with cushioning which are put on the floor, which allow both newbies and masters to exercise their martial art properly, steering clear of any kind of injury risks and staying away from unneeded strain on your legs and back. In order to be a master in martial arts, one should practice every single day, which means you need a comfortable mat to land on. One of the options is jigsaw mats.
Jigsaw mats are extremely easy to set up and to detach. Since they are alike jigsaw puzzles, just pack the elements and they are prepared for transportation. The mats are light in weight hence they are light to carry, keep and relocate. Another thing about jigsaw Martial Arts mats is that they are available in numerous sizes; 40mm, 30mm, and 20mm.
The various thickness appeal to the variety of martial art form, when selecting the most ideal mats for your gym, you can take your time to look into which level of thickness matches your preferences. You can try 20mm jigsaw mats for martial arts and karate. As for wrestling, judo, and Jiu-Jitsu, you can go with the 40mm size to give you more protection.
Who Used Premium Jigsaw Mats
Jigsaw Mats are also ideal for fitness centres and dojos large and small. The jigsaw mats are for sale in a number of weights and weights to accommodate your requirements. They are secure and stimulate stability, they are also lightweight so that you could move the flooring to anywhere it is necessary for competition and training.
A sturdy floor can trigger injury as well as leave you becoming hesitant to throw yourself completely into the arena for dread of getting injured. Martial arts mats get rid of the stress as well as self-effacing. In case you do fall really hard you will certainly have a fairly smooth landing! Martial arts mats offer a lot better experience and enable the artist to establish self-assurance in her or his own capability.
Lastly, soft and bouncy mats can be applied for several means of reasons. After a martial arts lesson, you could cool off with a couple of yoga stretches or sit back with an area of meditating (definitely better carried out on soft martial arts mats than on a cool, sturdy floor)!
Premium Supplier Of Premium Mats
Premium jigsaw mats supplier like Ezy Mats know exactly about supplying practical flooring that is very effective in a martial arts school or fitness centre. We offer martial arts mats that do more than simply generate a fine-looking workout area, they provide a functional and convenient space for an energetic and dynamic session. Definitely something that should be your necessity.
So if you want to know the advantages of premium jigsaw mats look no further. Amongst all the gears required in martial arts, mats are certainly one of the top ones! If you need top-quality mats for martial arts sessions, make sure you get yours from superior jigsaw mats supplier that is Ezy Mats!