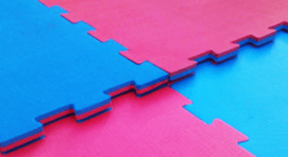 Market Watch EVA Interlocking Jigsaw Mats
The ASX bucked the trend yesterday following an onslaught in the US and UK stock markets in the previous session. The ASX 200 along with the Philippines Stock Exchange PSEi Index were the only indices in the Asia-Pacific region to close in the green yesterday, with the ASX 200 closing 0.18% up at 5,254.89.
US stocks and WTI Crude erased earlier losses off the back of some good US economic data. What also added weight to this rebound was that a Fed Reserve official said that the Fed should consider delaying the finish of their stimulus package considering the fundamental outlook and current market sentiment.  Treasuries fell off the back of those comments and during the trading session, whilst WTI Crude Oil fell below the US$80 a barrel mark for the first time since June 2012 before rebounding.
European Stocks had an initial sell off, but ended the session slightly down, with the FTSE down 0.25% to 6,195.91 and the EURO STOXX50 down 0.62% to close at 2,874.65.
Gold was little unchanged on the day closing at 1,239.04 USD/t oz.
The price of EVA interlocking jigsaw gym mats is expected to rise in the short-term. The cost of 30mm and 40mm jigsaw mats will remain stable due to remaining stock level from previous shipment. The cost of 20mm EVA interlocking jigsaw mats will need to rise as the new shipment was ordered during the new AUD pricing regime.
Ezymats will always endeavour to remain the most competitive supplier of EVA interlocking jigsaw mats in the market.