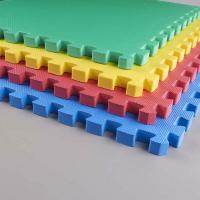 Why Kids Love Jigsaw Mats
As a gym owner, you need to take every step possible to ensure your establishment provides your customers all the comforts and safety they need. The gym equipment should be up-to-date, the trainers need to be knowledgeable, and the floor needs to be comfortable. At Ezy Mats, we provide just that. Our collection of jigsaw mats are great for different kinds of applications and would add a burst or colour and vibrancy to your property.

What Makes our Jigsaw Mats Special?
If you want something that would protect you from impact, be safe to use, and affordable, you don't need to look beyond our gym mats.
Colourful – Our jigsaw puzzle mats are very colourful. You can choose alternating or contrasting colours for your floor or stick to a steady solid shade. For example, we provide blue and red combinations as well as grey and black combinations. You can choose from a wide range of products and create a unique and attractive pattern on your floor.
Resilient – We design our products to be very resilient and durable because we understand that gym floors are subjected to a considerable amount of wear and tear. You won't face any trouble after you install our flooring system.
Affordability – The products we offer are very affordable and are made from high-quality materials. They're affordable and easy to install. They also don't require much by way of maintenance and care. You can use our interlocking materials to install fun floors at a very low cost.
Ideal for All Activities – Our mats are very comfortable and great for a variety of exercises such as karate, tai chi, kung fu, and other such physical activities.
Safe – You will find that our jigsaw mat is comfortable, safe for use and child-friendly. You can easily install them in playrooms and other such rooms.
Permanent or Temporary – These jigsaw mats can be a permanent or a temporary flooring solution. They are reusable and double-sided and can be installed and removed as often as you like. Because they're customisable, you can use them on many different floor types.
Types of Mats We Have
We offer a wide-range of products that can fit any requirement. Our mats are of superior quality and are available in different sizes and shapes. You can choose something that suits your preferences and requirements. Here's a brief introduction to what we offer:
Colours – We offer a wide range of colours including red, blue, white black, etc. You can try different combinations to get different results so your floor looks unique and attractive.
Thickness – Our store has mats of different sizes so you can choose from 40mm, 30mm, and 20mm. All of these sizes are very comfortable. You can ask our experts' advice on the level of thickness required in your gym.
You don't need to look elsewhere for excellent quality gym mats. We at Ezy Mats have a large collection of them and you can get in touch with us at (02) 97187424 or contact us through this form if you want to know more.