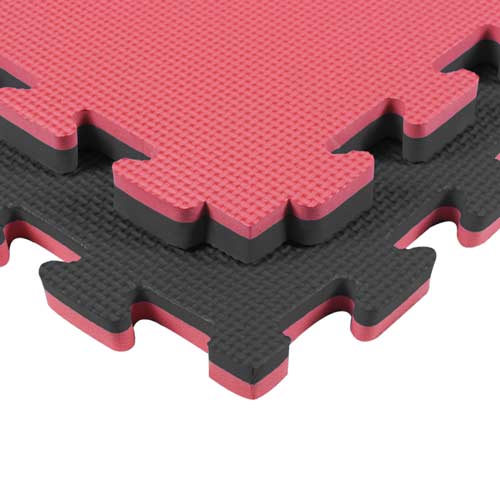 Why are Jigsaw Mats Better Than Regular Mats for your Home Gym?
A home gym is a great way to get back on track with your health and fitness. You don't have to spend time commuting to your local gym and can exercise in the comfort and privacy of your home. Such gyms are particularly beneficial to people who're self-conscious about exercising in public.
However, it's important to create a safe gym space before you start exercising. At Ezy Mats, we encourage customers to pay attention to the floor and use good quality gym equipment for their exercise. Jigsaw mats are a great way to make your gym flooring safer.
Why are jigsaw mats better than regular mats?
There are different kinds of mats available in the market so it's not easy to make a choice for your home gym. Here are some reasons why you should choose jigsaw mats instead of regular mats:
Design – Jigsaw mats have a very attractive design, which makes them a good choice for home gyms. They have different colours on different sides in most cases, so you can install alternating colours for a different effect.
Easy installation – Jigsaw mats are very easy to install because you don't need to use glue or follow any specific instructions. These mats are like puzzle pieces and lock into place once all the pieces are installed. You don't need to apply glue to the floor and stick the mat in order to keep it in place because the interlocking design will do it for you.
Easy removal – It's easy to remove the mat because it's not adhered to the floor surface. So if you decide to move to a different location or stop using the home gym, you don't need to refinish your original floors because there will be no glue stains or other such problems. You can just lift the puzzle pieces up without causing any damage to the pieces or the floor. They're reusable so you can install them in a different location as well.
Comfort – These jigsaw mats provide ample support and comfort to you while you exercise. They absorb impact and offer a soft surface that doesn't cause excessive strain to your muscles and bones. Exercising on a hard floor surface can be very difficult challenging and cause excessive injuries as well. Jigsaw mats will act as a barrier between your body and the hard floor.
Easy maintenance – It's not difficult to maintain the mats. You just need mild soap water and clean the surface once in a while. Regular cleaning will improve the lifespan of the mat and ensure it doesn't look bad. Regular cleaning will also ensure the floor is hygienic and doesn't smell of sweat and dirt.
You don't need to look elsewhere for excellent quality jigsaw mats. We at Ezy Mats have a large collection of them and you can get in touch with us at (02) 97187424 or contact us through this form if you want to know more.