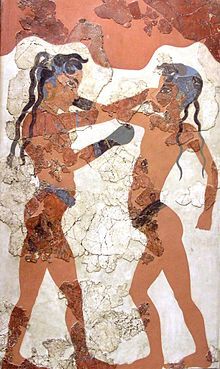 Boxing
Boxing is a combat sport in which two people engage in a contest of strength, speed, reflexes, endurance, and will by throwing punches with gloved hands against each other. Bouts usually take place in a ring when in a professional setting. The bare knuckle variety is known to take place in different settings such a backyard, parking lot or the beach. Either way it is an exciting sport to watch which explains its popularity.
Amateur Boxing
Amateur boxing is an Olympic and Commonwealth sport and is a common fixture in most of the major international games—it also has its own World Championships. It is supervised by a referee over a series of one- to three-minute intervals called rounds. The result is decided when an opponent is deemed incapable to continue by a referee, is disqualified for breaking a rule, resigns by throwing in a towel, or is pronounced the winner or loser based on the judges' scorecards at the end of the contest.
The origin of boxing may be its acceptance by the ancient Greeks as an Olympic game in BCE 688. It evolved from 16th- and 18th-century prizefights, largely in Great Britain, to the forerunner of modern boxing in the mid-19th century, again initially in Great Britain and later in the United States. Today it is popular as both an amateur and professional sport.
Boxing Mats
Training usually takes place on boxing mats in a group setting. They are also commonly referred to as puzzle mats due to their interlocking qualities. The mats are made from EVA foam which offers protection during training. They also help reduce injury and fatigue during long training sessions.
Contact Ezy Mats for all your gym mats needs. We are a premium supplier of mats in the Australian market. Our mats can be used for both commercial and domestic applications.