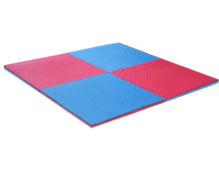 The Right Grappling Mats Supplier
The fastest growing combat sport in Australia at the moment is grappling. Whether it is BJJ, judo, jiu-jitsu (ju jutsu) or plain old wrestling, grappling arts are currently exploding all over the country. Grappling arts have become so popular ever since the advent of MMA or mixed martial arts as it is otherwise know. This probably explains why a new BJJ (Brazilian Jiu-Jitsu) club is open almost every other day. With all the coverage you find on television and the internet it is no wonder it has become so popular. So if you are thinking of doing some training it helps to find the right grappling mats supplier.
Even so it is not that easy to set up a grappling or BJJ club. Sure one of the most important things you need is the actual skill. Not every Tom, Dick and Harry can open a BJJ club for example. First you need to have the correct qualifications such as a black belt or coaching credentials. The other thing you need is the right premises. You need a lot of room if you want to practice grappling as you need room to roll around with your training partner. The other thing you most definitely need and can train without is the right equipment.
To find the right equipment you first need to find the right suppliers and the most import supplier is the one that is going to supply you with your training mats. Training mats are the most crucial aspect of any grappling gym. Without out your training mats you are just a chump. A person can't just use any old training mat either. You need good training mats which are going to survive the test of time. You need mats on the floor and on the wall. Most of all you to be on the ball.
Tatami Mats are one of the most popular mats for professional gyms. Tatami mats have a tatami finish which is important for traditional grappling clubs such as jiu-jitsu schools and judo schools. They like the tatami finish because it makes them feel like they are in Japan training in one of those traditional style dojos. For people that don't feel an affinity with the traditional schools there is always the option of the smooth surface. These mats we call MMA mats even though they are just tatami mats without the tatami finish.
Wall Mats and Wall Padding
If you are going to open a professional grappling school in Australia then you can't go by Wall Padding. Firstly there are probably OHS issues which need to be abided by. At the end of the day you don't want some schmuck crashing into the wall during training and injuring themselves. A training hall without wall padding or wall mats is just a lawsuit waiting to happen. That probably explains why any good school will have wall padding on the wall. Lot also have mirrors so you can check you hair while training but mostly they have wall padding and wall mats.
So when you think about Grappling Mats Australia then you should be thinking about when to get the best mats for your grappling institution. Yes there are grappling schools all over the place now but you don't want to be one of those dodgy ones that aren't fit out properly. Consumers these days are smart and they know they don't have to settle for second best when only the best will do.
So if you come to Ezy Mats you have found The Right Grappling Mats Supplier.