Buy at Ezymats with confidence, we do our best to get your products to you at a fast and at affordable rates. When you think Jigsaw Mats Perth think Ezy Mats. The name you can trust.
Freight charges – Contact us for quote.

Rates based on –

5 mats per bag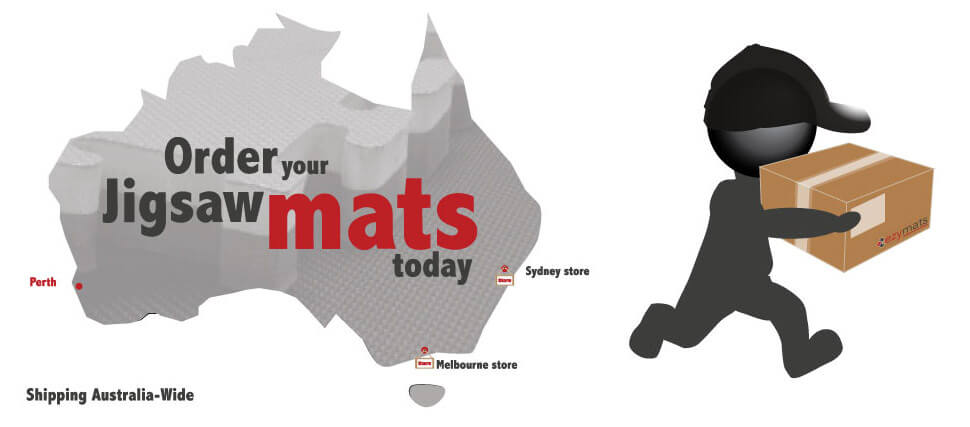 The city of Perth in Western Australia was named by Captain James Stirling in 1829 after Perth, Scotland, in honour of the birthplace and parliamentary seat in the British House of Commons of Sir George Murray, Secretary of State for War and the Colonies.
Contemporary Perth; The 1960s and 1970s saw continued growth in Perth, helped by discoveries of iron ore and natural gas throughout the state. The city skyline changed significantly during this period with the construction of Perth's first skyscrapers.
On 20 February 1962, Perth became known worldwide as the "City of Light", as city residents lit their house lights and streetlights to celebrate American astronaut John Glenn on his orbit around the earth on Friendship 7.The city repeated its feat as Glenn passed overhead on the Space Shuttle in 1998.
Despite the distance, like anywhere else in Australia Perth's people want EzyMats Jigsaw mats. Whether it's for the local Karate Dojo or the inner city dancing school there is demand for EzyMats Jigsaw mats. It must be the competitive prices or the competitive freight quotes our dedicated Logistics guy looks for. Maybe it's both.
Don't let the distance put you off. Call or email for a freight solution that will surprise you.
Jigsaw Mats Perth is just the tip of the iceberg. We offer a full range of gym mats from A to Z.