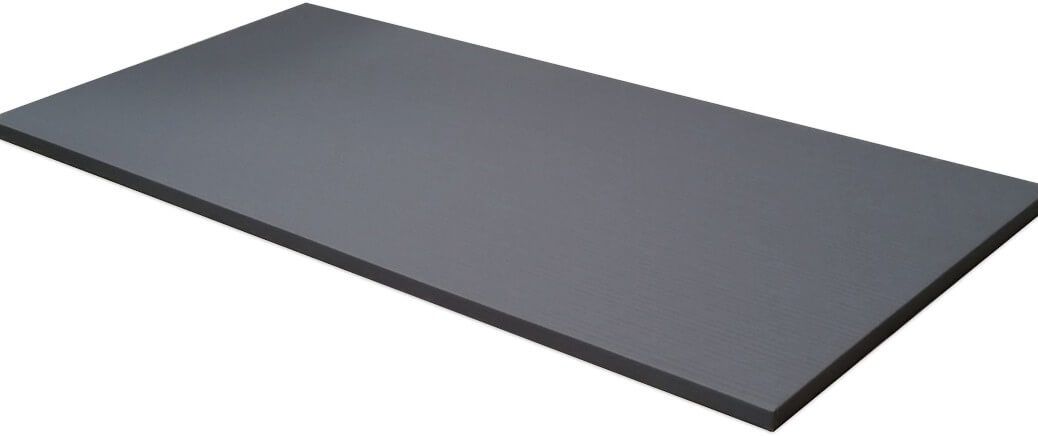 Gym mats are an essential safety measure as they protect people from injuries due to falls and impacts. They help minimize strain on the body and ensure gym members are comfortable when they exercise. At Ezy Mats, we specialize in gym mats and provide customised solutions to our clients. We will help ensure your gym has comfortable and resilient flooring that would last for several years to come.

Types of Gym Mats We Have
We have a large collection of gym mats that you can choose from. Each type of material has a distinct advantage so you should consider all of them carefully. Our expert consultants will provide all the information you need to make a decision and choose from the list of materials mentioned below:
Vinyl Mats – Vinyl mats are made from vinyl and compressed foam, which makes them an excellent choice for gym floors. They'll absorb impact well and keep the noise under control as well. Our vinyl mats have a smooth surface and an anti-slip base and they're reversible; so you can use them both sides.
Rubber Mats – Rubber is a more affordable material in comparison to vinyl and it's sturdy and durable. It can withstand heavy impact without damage and is ideal for gyms with high activity levels.
EVA Jigsaw Mats – Jigsaw mats are very popular with gyms because they provide a very snug fit that covers the floor area completely. They are customisable and can fit different types of floor plans and architectures. It makes these gym mats great for a variety of applications and purposes.
Why Do You Need Gym Mats?
Support Movement – Gym mats support movement and offer your feet and legs an adequate level of comfort. Good quality mats will provide a tough, flat, but cushioned surface to protect your clients' feet and legs. This would minimise the risk of injury and keep all your gym members comfortable during the exercise.
Protect the Floor – Gym mats protect the floor from impact. For example, if you have lovely wood floors in your gym, the mats will add an extra layer of protection. They'll save your wood floors from regular wear and tear and prevent stains as well. These mats would increase the lifespan of your floor and help reduce repair expenses.
Looks – Gym mats are available in a variety of colours and designs so you can easily turn a full concrete slab floor into something interesting. Our regular mats are very colourful and the jigsaw mats have an interesting design and shape.
We provide good quality gym mat sale and installation services. With us, you can be sure your floor would be ready for all kinds of day-to-day gym challenges. You don't need to look elsewhere for excellent quality gym mats. We at Ezy Mats have a large collection of them and you can get in touch with us at (02) 97187424 or contact us through this form if you want to know more.