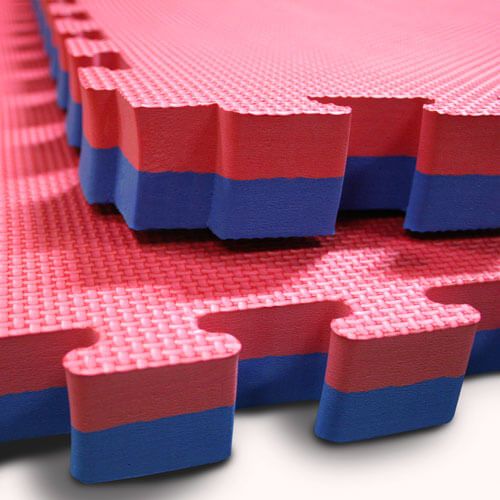 We have a new order of 20mm jigsaw mats heading for our Melbourne warehouse. Our jigsaw mats especially the 20 black / grey mats have been super popular. We are not our of stock yet but we anticipate that by the time the new shipment arrives we will be well and truly our of stock. The mats coming to Melbourne are as follows:
20mm blue / red jigsaw mats
20mm black / red jigsaw mats
20mm black / grey jigsaw mats
If you are setting up a gym or a training area it is always important what kind of ant-fatigue mats you may require. Obviously there are many options and they all depend on what kind of mat you require. Just remember it is better to have something then nothing. The main use for the area in question is what you might want to consider first.
If you are looking at a weight training area or somewhere where there will be equipment the best option is usually rubber mats. Rubber mats have a higher density and are thinner so there is less room for deformation. They tend to be heavy but that doesn't matter after to lay them down.
If it is an area where people are likely to be jumping up and down then you might want to consider jigsaw mats. These mats are make from EVA foam which means they have good absorbing qualities. Our EVA foam mats are easy to put together and come in a variety of colours and thicknesses. Just like our 20mm jigsaw mats coming to Melbourne they are very popular.
If you are looking at fitting out an area please give us a call. We are always happy to help in guiding you with your jigsaw and gym mats needs.