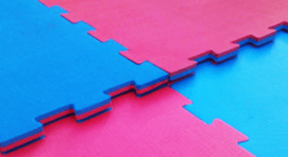 We currently have a range of sizes of EVA jigsaw gym mats in stock. We have 20mm EVA jigsaw gym mats. We have 30mm EVA jigsaw mats. We have 40mm EVA jigsaw gym mats. Although the mats are very popular we also have another 40′ container with over 1200 mats arriving mid-August.
The mats can be purchased online and ship direct to you or they can be picked up from our warehouse. Our office is located in the Sydney suburb of Belmore. Our office hours are 9am – 5:30pm.
Please call us for any questions you may have or to reserve stock.