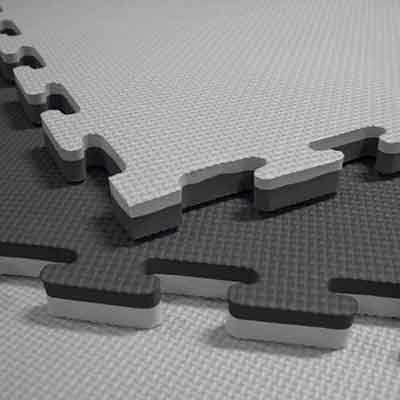 Jigsaw Mats are the Best Choice for Your Home Gym
Home gyms are a great way to avoid expensive gym fees and exercise in privacy. You can hire a personal trainer to make sure your exercise routine is safe and effective instead of spending all that money on the gym. When you plan your home gym, it's important to consider your safety and comfort. At Ezy Mats, we've noticed that people spend a lot of money on exercise equipment but not enough on safety and protection installations like gym mats. We recommend that you install jigsaw mats because they're ideal for any home gym.

Why Jigsaw Mats?
Jigsaw mats are a great choice for any homeowner that wants to install a gym because they're affordable. Unlike other home gym flooring solutions, you don't need to call professional installers or spend days on the installation process. Here are some reasons why these mats are the best flooring option for you:
Attractive – Jigsaw mats look like giant puzzle pieces that lock into place and are available in a number of vibrant and interesting colours. They'll look great in any room and give your home gym and clean and professional appearance.
Firm but Flexible – The jigsaw mats are very stable and steady. They're dense enough to not sink under your body weight and movements and soft enough to cushion any impact and protect your joints during your regular exercise routines.
Easy to Install – These mats are very easy to install. You don't require glue and just need to match the individual pieces on a clean floor. The pieces will lock into place and won't budge during your exercise routines.
How to Choose the Best Jigsaw Mats?
Different people have different requirements, which is why we offer a wide range of products in our store. You can choose the best product according to your need and what kind of exercises you intend to perform every day. Here are some tips on how to choose the best mats for your home gym:
Consider the Colour – Our jigsaw mats are available in different colours. If you don't mind a bright pop of colour on your gym floor, you can choose our red or blue jigsaw mats. However, if you want a more modern and sophisticated colour, you can choose our grey or black jigsaw mats. They will fit in with your overall decor easily. You can also create an alternate or check-like pattern because these mats usually have different colours on different sides.
Thickness – This is also a factor you must consider when you order your jigsaw mats. We have thickness of 40mm, 30mm, and 20mm. 40mm mats are very popular because they provide the most protection and comfort. You can choose thinner mats if you want something light weight and easy to transport.
You don't need to look elsewhere for excellent quality jigsaw mats. We at Ezy Mats have a large collection of them and you can get in touch with us at (02) 97187424 or contact us through this form if you want to know more.