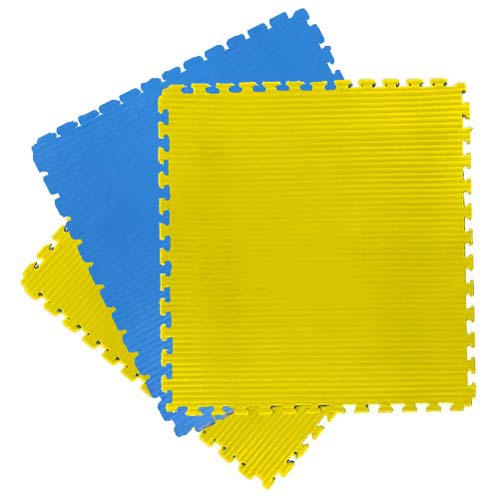 Even Home Gyms Need Gym Mats
Training In Your Home Gym
These days a lot of training is done at home. Whilst professional gyms will always be part of the equation the need to train more has lead us to train more in a domestic environment. At the gym we have all sorts of protective equipment to keep us safe but what about at home. The truth is that even home gyms need gym mats. The question is what kind to they need.
Home Gyms Need Rubber Mats
If you are doing weight training at home then you definitely need Rubber Mats. Doing heavy lifting can take its toll on your body so you want to make sure you have flooring which will reduce the fatigue. That is precisely what rubber mats do. They reduce the stress that is placed on your body which is something you need if you want to training longer.
It is not only your body that feels the stress when you are doing weight training. Your floor also feels the effect. If you have a nice concrete or timber floor you don't want to be throwing your heavy weight on them. You need something do to come between and that is rubber mats. Rubber flooring of some sort is the only way to reduce the damage to your beloved floor.
Home Training and Gymnastics Mats
When it comes to gymnastic it is usually a pursuit for kids. I walk past the local gymnastic academy and it is packed with kids. There might be a few adults in the evening but not many. It is probably the reason why we get looks of parent buying gymnastic mats for their kids. To get good at gymnastics you need to train at home so you need something to train on.
Whilst the most popular choice is roll out gymnastics mats they are not the only ones in demand. People of have a smaller area might chose the foldable mats which are good for tumbling etc. Others how have a larger area to deck out might pick jigsaw mats. They come in different thicknesses which means they can be tailored to the impact level of the activity. Either way some form of gymnastics mats are essential.
All The Other Stuff We Do
The other reason even home gyms need gym mats is for all the other stuff we do at home. For those activities we simply need puzzle mats. With puzzle mats you pretty much got everything else covered. There are lots of other thinks people do to keep fit. Every thing from cross-fit training to martial arts. For all those things puzzle mats are the ideal choice.
So there you have it. I said it before and I will say it again. If you want to train at home make sure you get yourself some gym mats. There is a mat for every occasion.