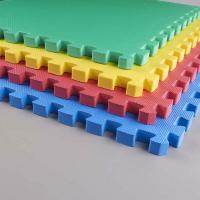 The Australian GDP figures demonstrated that the economy is growing at the fastest pace in 3.5 years. The economy expanded at 1.1% in the first quarter of 2016 and 3.1% over the past year. The rise in GDP was attributed to a rapid rise in exports due to the weaker AUD.  The net result was still positive for the AUD gaining over 1% on the release.
The overall fall in the Australian dollar has resulted in the rise in pricing for EVA interlocking jigsaw mats. The price of jigsaw mats has remained low despite a more then 30% fall in the value of the Australian dollar. However we have been forced to raise pricing although nowhere near the actual cost of importing the interlocking mats.
As a result Ezy Mats still remain one of the cheapest suppliers of jigsaw mats in the Australian market.